Avoid 8 Summer Scams Targeting Your Wallet
Details

Written by

Remar Sutton

Category: Articles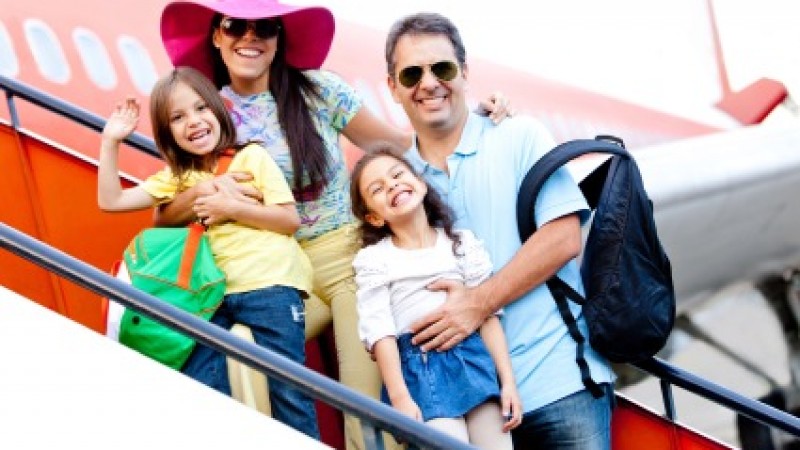 Warmer days bring thoughts of relaxing summer activities and plans for vacations. Summer is also a popular time for doing home maintenance. Warmer days also bring scams that use all these summer activities to steal your hard-earned money. Watch out for these wide-spread cons and take steps to protect yourself.
Summer time is easy when you slam the door on scams.
Vacation Travel Scams
The Scam: Summer is the favorite time for special, often expensive, trips. Popular choices include taking the family to Disney, spending a week at an island resort, enjoying a cruise, or touring abroad. Of course, you'd like to find a good bargain. Con artists take advantage of this desire by offering too-good-to-be-true "deals" that are actually scams. At best, you may find that the bargain deal offers substandard accommodations and many add on costs. At worst, you may sign up for the "deal" and pay a deposit (or even prepay the whole cost) only to discover later that there is no trip.
How to Avoid It: Protect yourself by using only reputable companies or websites to book your trip. Beware of deals offered on social media or classified sites such as Craigslist. Check out all companies with the Better Business Bureau. Search for reviews and complaints by entering the name of the company in your search engine. Always pay with a credit card so that you can dispute fraudulent transactions.
Vacation Rental Home Scams
The Scam: Thieves take advantage of your desire to rent a home away from home for your vacation—leasing a house at the beach or a cabin in the mountains are popular choices. Many vacation rentals are listed on social media or web-based listing services. Thieves offer an imaginary property or copy a legitimate listing but substitute their own contact information. When you reserve the rental, they take your credit card information and steal your money. Would-be renters also often arrive at a property to find it doesn't exist, was never for rent, or has other legitimate renters in possession.
How to Avoid It: First, use only reputable listing sites or agencies that verify property owners and offer rental guarantees. Next, check out the listing service and the property; look for online reviews and complaints. Google the listing text to see if it appears in multiple ads—a sure sign of a con. Check Google Maps Street View or Zillow to see if the property is same as pictures in the ad. You can also use Google to search for multiple uses of the same images in different listings—another sign of a con. If you are using a listing agent, check the business out with the local Better Business Bureau. Pay a deposit only with a credit card; never pay by cashier's check, personal check, or wire transfer.
Two Current Scams Targeting Hotel Guests
The Scam: Most hotels and motels do their best to protect guests, but clever crooks are always developing ways around those protections. One prevalent scam involves a late night call—typically 2 to 3 a.m.—to your room phone. The caller claims to be the front desk clerk and says apologetically that your credit card information has not gone through or the "system" has lost your information. Would you please give it again? In actuality, a hotel employee is not calling; instead, a crook has bypassed the hotel's phone security and is trying stealing your info in order to run up charges on your card.
How to Avoid It: Know that hotels don't make middle of the night calls to guests. Even if you just checked in at 2 a.m. and think the call might be legitimate, hang up and call the front desk directly using the contact information on your phone.
The Scam: Room service is closed, but you are hungry. You just happened to find a flyer for all-night pizza delivery slid under your door that afternoon. You call the number and order a pizza with your debit or credit card. Alas, no pizza arrives but big sums vanish from your account or show up on your credit card statement.
How to Avoid It: Although hotels often put restaurant recommendations in their guest information, they do not typically slip flyers under doors or leave them by doors. Hotels try to guard against this scam but have to balance guest security with accessibility. Protect yourself by calling the front desk to ask if the flyer and information is legitimate.
The Bogus Concert Tickets Scam
The Scam: You see an online ad or posting on social media for tickets for a concert or music festival you want to attend. You thought they had sold out; so you jump right on this offer posted by a person who claims they can't go and need to unload their tickets or by a "ticket broker" who says they have available tickets. In actuality, the scamsters have no tickets; instead, their goal is to steal your credit card number and personal information and run up charges.
How to Avoid It: Buy tickets only from the concert venue or event-approved websites. If you are too late, don't plan to buy tickets from scalpers outside the concert venue. Not only is this practice illegal in many cities, but those tickets are often counterfeit.
Summer Job Scams
The Scam: You are looking for a temporary summer job. There are lots of job ads on social media and websites such as Craigslist. You contact the "employer" via email or phone as directed by the listing. The company is very interested in you and conducts a phone interview, often a lengthy interview. By the close of the interview, the person you are talking to says, "You've got the job. You are just the person we need. All we'll need to do to get you started is do a background check; so could we please have your Social Security number and other information." And that's the last you hear of any job; but your identity and often your money are stolen.
How to Avoid It: First, check out the company listing the job. If there is no company name in the listing and the person you contact won't give you any information about the company or the employment/screening agency, then break off communication. Check the company and employment agency out with the Better Business Bureau and local consumer affairs offices. Look for reviews and complaints. Do a search for complaints about the phone number you called. Never give out your Social Security number or personal or financial information on the basis of just email or phone contact. Always verify the company's existence, have a signed contract, and preferably meet the employer before giving information for a background check.
Two Ever Popular Home Improvement Scams
The Scam: A "contractor" knocks on your door. They have been working in the neighborhood and have extra materials on hand—driveway repair, roofing and house painting are popular. As a result, they can make you a deal. If you will pay for the materials up front, they will do the job right away. You pay. The con men either take your money and don't do the job or do a quick and shoddy job worth far less than you paid.
How to Avoid It: Refuse such door-to-door offers—they are usually fraudulent. Even on projects where you research and employ a contractor, always have a written contract that spells out the project's requirements, materials and costs, and never pay the complete cost up front.
The Scam: Some home security and home alarm companies hire temporary sales agents in the summer to sell their services door-to-door. Some home entertainment and communications companies may do the same. Even when the services are legitimate, some of the door-to-door agents may use high pressure sales techniques, imply that the equipment is free but fail to mention the high cost contract for security monitoring or entertainment packages. In some cases, the quality of the services may be poor.
How to Avoid It: Even if the door-to-door salesperson represents a company you know to be legitimate, the better response is to say no to the salesperson on your doorstep. If you need home security or alarm systems or a new entertainment or communications provider, do independent research, compare services and their track record, and then contact the company directly.
Summer Time is Easy When You Slam the Door on Scams
All these scams work because they know that consumers are generally trusting or they want to save money and like a quick and easy solution. You can avoid them all and protect your money and personal information by being skeptical, taking time to adequately check out companies and offers, and never saying yes to a "deal" you can't verify.